Co-organized by the Office of the Vice President for Research and Innovation and the Division of Undergraduate Education and Student Success, the Week of Research is a time to celebrate the array of impactful research happening all over the University of Oregon. The 2021 schedule and recordings are available through the links below. Check back in 2022 for updates on next year's Week of Research.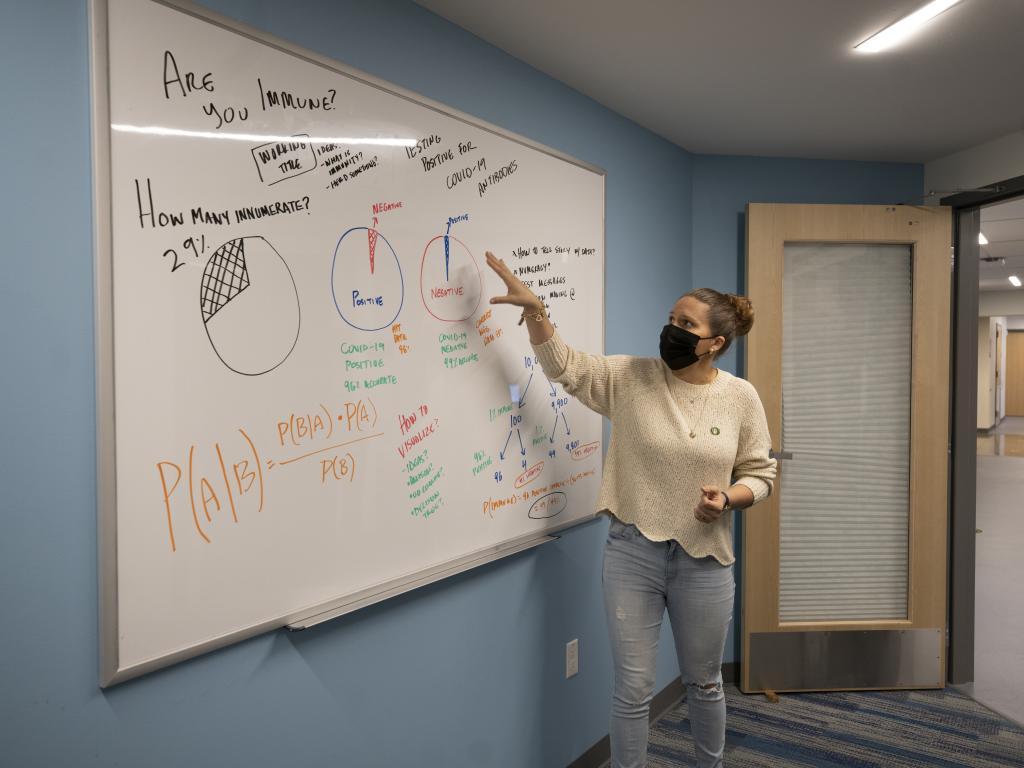 Many thanks to participating groups and sponsors
Center for Science Communication Research, the Office of the Provost, School of Journalism and Communication, the Graduate School, Lundquist Center for Entrepreneurship, Department of Product Design, Oregon Humanities Center, Asian Studies Program, Undergraduate Research Opportunity Program, Summer Academy to Inspire Learning (SAIL) & Center for Undergraduate Research & Engagement (CURE), Rehearsals for Life Troupe, University Housing, the Robert D. Clark Honors College, the UO Libraries, and the Ronald E. McNair Scholars Program
 

Monday, May 24, 2021, 9:00am

West Coast to West Cork: 10 Years Since the UO with Tamela Maciel

After graduating from the UO as a Physics and Mathematics double major and the school's third recipient of the prestigious Marshall Scholarship, Tamela Maciel earned a PhD in Astrophysics from the University of Cambridge. In this keynote lecture for the Undergraduate Research Symposium, she will share the opportunities and lessons from UO that prepared her for the past 10 years of research, science communication, love, and life abroad. Read the full description.

Monday, May 24, 2021, 10:45am-12:15pm

2021 UO Entrepreneurship Awards

The UO Entrepreneurship Awards provides a celebratory forum to recognize UO student entrepreneurs and the faculty, staff, alumni and community members who helped them along the way. This annual event is held at the end of the academic year and includes a student startup trade show for guests to learn about the entrepreneurial ventures being developed across campus.

View the recording here:  https://entrepreneurshipawards.uoregon.edu/

Monday, May 24, 2021, 1:45Pm-3:15pm

Culturally responsive mentorship workshop

Join the new 2021-22 Provost Mentorship Fellow and faculty panelists for an interactive workshop on culturally responsive mentoring. We will discuss how mentoring differs from advising and sponsorship and what it means to be a mentor that recognizes and respects cultural differences within mentorship networks. You will learn alongside UO faculty panelists with expertise in this area, working collaboratively through scenarios that build upon your current mentoring practices.

Monday, May 24, 2021, 3:30Pm-5:00pm

Sport and Wellness Initiative

The University of Oregon is embarking on an initiative designed to integrate and increase the impact of a wide range of academic fields in sport and wellness; provide world-class experiences and educational opportunities to attract students; and align the university with research and expertise on healthy living and environmental quality. Read the full description.

View the recorded livestream on YouTube. 

Tuesday, May 25, 2021, 9:00am-10:30am: Preliminary Rounds, 1:45pm-3:15pm: Finals

Three Minute Thesis Competition

In coordination with the Week of Research, the Graduate School is pleased to host a Virtual Three Minute Thesis Competition (3MT). The 3MT challenges participants to present their research in just 180 seconds, in an engaging form that can be understood by a non-specialist audience. Read the full description.

View the recorded finals session on Youtube. 

Tuesday, May 25, 2021 11:00am-12:00pm

The Science Communication Experience: UO students, research, creative work, and a new minor

During the session, Center for Science Communication Research (SCR) Associate Director Mark Blaine will be joined by several undergraduate students, whose experiences informed the design of the Science Communication Minor. Their stories will demonstrate the SCR's focus on the issues, skills, and scholarship critical to the science of science communication.Read the full description.

View the recorded event on YouTube.

Tuesday, May 25, 2021, 10:45am-12:15pm

Environment Initiative Research Webinar

This webinar will highlight a variety of faculty members who are doing multidisciplinary research in the area of the environment at the UO.  Moderated by Adell Amos, Director of the Environment Initiative, speakers will discuss how their research embodies our commitment to work together to build and realize a just and livable future.

View the recorded livestream on YouTube. 

Tuesday, May 25, 2021, 2pm-3pm

Advancing Gender Equity in Academe: Challenges, Strategies, and Institutional Change with Ann Austin

The UO is proud to welcome Ann Austin as the Week of Research's keynote lecturer. Join us in learning an evidence-based, action-oriented response to the persistent, everyday inequity of academic workplaces. Read the full description.

View the recorded livestream on YouTube. 

Tuesday, May 25, 2021, 3:30pm-5:00pm

Rehearsing for Life: Practical Skills for Difficult Dialogues

Join the graduate student theater troupe "Rehearsals for Life" for a lively and interactive discussion about undergraduate research/creative work and issues of race, ethnicity, gender, sexual orientation and nationality. This workshop will use interactive theatre techniques and meaningful conversations to facilitate a space where all participants learn from one another's ideas, perspectives, and experiences. Walk away better prepared and more confident to confront difficult dialogues in your academic and professional life. Read the full description.

Event recording coming soon!

Tuesday, May 25, 2021, 5:00pm-7:00pm

Asian Studies Research Event

Students will present their original research and creative work on topics in the broad, interdisciplinary field of Asian Studies. Presentations will be followed by a panel discussion about research and creative processes and will offer helpful hints for students interested preparing independent projects. Read the full description. 

Event recording coming soon!

Wednesday, May 26, 2021, 9:00am-4:00pm

Pre-College Collaboration Day

The University of Oregon is honored to invite students, teachers and classrooms to participate in the Undergraduate Research Symposium's pre-college day virtual event. Join us for live college student panels, teaching demonstrations, lab and campus tours, admissions and financial aid information.Read the full description.

Get all the event recordings here. 

Thursday, May 27, 2021, 9:00am-5:00pm

11th Annual Undergraduate Research Symposium

 The UO Undergraduate Research Symposium (URS) celebrates the remarkable contributions our undergraduates make to research and creative work in a wide range of disciplines and arts. The event enables undergraduates to share their ideas, discoveries, and artistic expression with the campus and broader community. Read the full description.

Friday, May 28, 2021, 12:00pm-1:00pm

Civil War Prisons and the Problem of Confederate Memory

Oregon Humanities Center will host virtually one of our regular work-in-progress talks given by one of this year's OHC research fellows, Timothy Williams, Assistant Prof of History in the Clark Honors College, on Friday, May 28th at noon

View the event recording on YouTube.

Join Anytime

Knight Campus Virtual Tour

Cruise through this guided virtual tour of the Phil and Penny Knight Campus for Accelerating Scientific Impact, an ambitious effort to integrate research, training, and entrepreneurship into a single, nimble, interdisciplinary enterprise. The UO will celebrate a grand opening in December.

Take the virtual tour here.