May 9, 2023
Kate Mondloch, professor of contemporary art and theory in the Department of the History of Art and Architecture at the UO has won support from National Endowment for the Humanities (NEH) to examine the recent phenomena of immersive art experiences.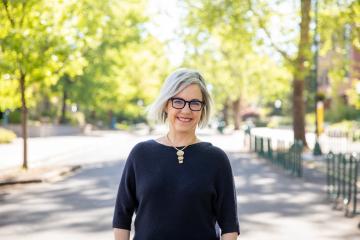 These include the current Van Gogh exhibits touring major cities in the U.S. and across the globe. Attendees at these popular events are surrounded by floor-to-ceiling projections of the great artist's work. The images, many animated, morph into hundreds of pieces by the post-Impressionist painter for an attention-grabbing experience lasting an hour.  
In her proposed book, Art of Attention: Body-Mind Awareness and Contemporary Art, Mondloch will provide a framework for evaluating these body-based attention initiatives and expand them to include educational settings like museums and classrooms.
"It will be the first book-length study to examine body-mind awareness practices in relationship to contemporary art," she said. 
Support for Mondloch's work comes from the highly competitive NEH Summer Stipend program, which funds approximately 10-15% of applications received annually.  
— 
By Catherine Jarmin Miller, Office of the Vice President for Research and Innovation