May 12, 2023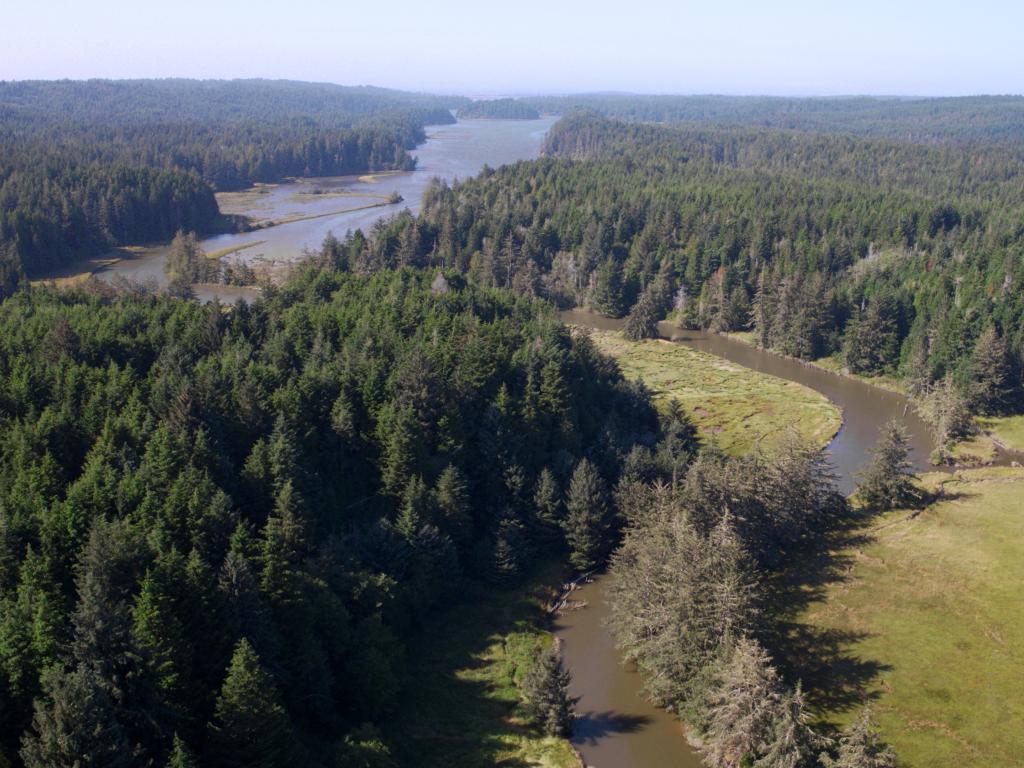 It is said that good timber does not grow with ease: the stronger wind, the stronger trees* — and for the Pacific Northwest economies connected to wood harvesting, manufacturing, and home building, the past several decades have certainly been challenging.
The bottoming-out of the timber industry in the early 1990s was followed by rapid population growth in the Pacific Northwest region. High demand has fueled soaring housing prices, leading to an affordability crisis. At the same time, populations in Oregon and Washington have become increasingly urban; many once-thriving rural communities feel left behind and unheard. After a decades-long reduction in timber harvesting, jobs and tax revenue, there is great interest in creating more economic development in the timber industries, while also helping to make forests healthier and reducing wildfire risk.
A group of researchers from the University of Oregon, Oregon State University (OSU), and Washington State University (WSU) have received a $1 million grant from the National Science Foundation (NSF) for their Type-1 NSF Regional Engine for Advancing Mass Timber Technologies in Oregon and Washington.   
"This grant enables us to comprehensively analyze what needs to be done to make a much more robust mass timber ecosystem from forests to buildings," said Judith Sheine, a professor in the UO's Department of Architecture and the project director and principal investigator.
Defining the Ecosystem
This ecosystem includes stakeholders across public agencies; county, state, and federal legislators; regulatory agencies; environmental nongovernmental organizations; and private-sector firms representing the entire mass timber supply chain, which spans forestry, lumber and veneer production, mass timber manufacturing, architectural and engineering design, and construction.
"This regional effort to boost economic growth through a mass timber innovation engine demonstrates the power of collaboration across institutions," said Anshuman "AR" Razdan, vice president for research and innovation. "The societal impact of translational research that brings discovery from the lab or studio to the homes of the people of the Pacific Northwest cannot be understated."
Sheine, who is also the director of design for the TallWood Design Institute (TDI), said that the grant enables strategic planning for research across all stages of the forest-to-factory chain. Through the TDI, a collaboration between UO's College of Design and OSU's Colleges of Forestry and Engineering, researchers are pushing the boundaries of what is possible in wood science, engineering, and architecture. Their work is applied and interdisciplinary, and addresses themes such as structural, seismic and fire performance, durability, sustainability, forestry and the timber supply chain, design research and human health, along with the economics of the timber industries.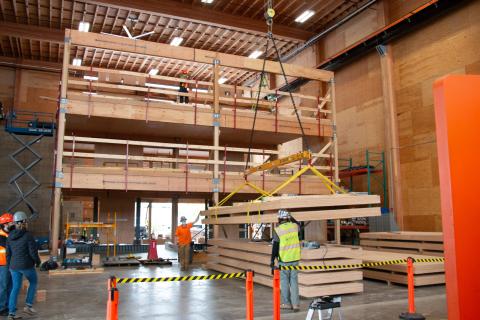 "We will be identifying what is working, what isn't, and why, and where there are gaps and bottlenecks," Sheine said. "We are aiming to produce a blueprint to create economic and social prosperity for both urban and rural communities."
In Washington, Gov. Jay Inslee recently signed a bill to improve building energy systems and decarbonize the built environment, which is responsible for 47% of U.S. carbon dioxide emissions, with building materials and construction accounting for 20%. Mass timber includes engineered construction materials made from small pieces of wood that can be sourced from selectively harvested logs. It is a sustainable alternative to concrete and steel, and its use in buildings can reduce the carbon footprint of the U.S. building industry. At the same time, mass timber buildings can help to improve forest health and reduce catastrophic wildfires by using wood fiber from forest restoration projects.
WSU's Voiland College of Engineering and Architecture, its School of Design, and its Composite Materials and Engineering Center position it to contribute to this effort, given its strengths in the disciplines related to the design, engineering, manufacture, construction, and maintenance of building structures. This grant builds on their previously conducted research on supply-chain analysis and techno-economic analysis of the regional mass timber market.
A strength of the combined efforts of WSU, OSU, and the UO is developing both the workforce and technologies the mass timber industry sorely needs.
"Compared to market-leading Europe, Pacific Northwest manufacturers lack economies of scale and rely more on manual labor-based processes and less on automated production technologies," said OSU professor and project co-director and co-principal investigator Andre Barbosa.
Supply Chain
"When TDI conducted a supply chain analysis of Oregon's mass timber sector in 2020 we found that two critical challenges for industry growth are fiber supply and workforce development," said TDI's director and project co-director and co-principal investigator Iain Macdonald. "This new grant will help us identify how to address both of those issues."
The regional innovation engine planning process will address sustainable forest management. It will analyze what it will take to reopen sawmills and increase manufacturing in the Pacific Northwest region, including workforce training and evaluating the potential market demand for new timber products in building applications, in particular for factory-produced affordable housing. Sheine notes that mass timber lends itself to prefabrication in factory environments, with the aim of making it more cost-efficient than site-built housing.  
Regional Collaboration
The purpose of the regional innovation engines initiative (which seek to advance critical technologies like semiconductors, artificial intelligence, biotechnology, and mass timber) is to foster inclusive and diverse regional coalitions to engage in use-inspired research, drive research results to the market and society, promote workforce development, and ultimately stimulate the economy and create new jobs.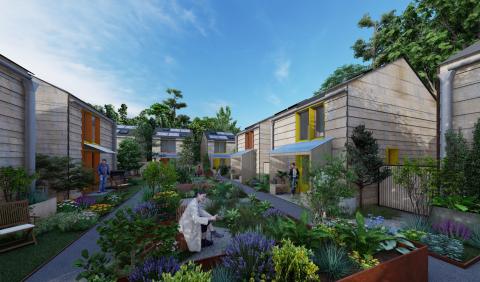 "This strategic planning grant is bringing together many of the main research institutions, non-profits, manufacturers, designers, and contractors in the mass timber sphere across the Pacific Northwest in a meaningful way to create a sustainable mass timber industry that can span across the state boundaries of Oregon and Washington," said Adam Phillips, associate professor of civil and environmental engineering at WSU and project co-principal investigator.
To ensure that the voices of affected under-represented communities are central to this planning grant, "the stakeholder engagement process is crafted in a manner that prioritizes and enables robust co-development of ideas, processes, and strategies," said José Meléndez, assistant professor of planning in UO's School of Planning, Public Policy, and Management and co-principal investigator on the project. "By running what is known as a Change Lab participatory planning process, we will center issues of power, access, and equity when engaging underserved and underrepresented communities."
The planning grant will lay the groundwork for a Type-2 grant from NSF, which, if awarded, could be as much as $160 million over 10 years. That funding would take the strategic framework the collaborators are developing and create an engine to grow the mass timber ecosystem of public-private partnerships.
"The strategic planning will involve working with a variety of interest groups, including people in the forestry industries, sawmill plants, panel producers, fabricators, contractors, architects and engineers, workforce training development agencies, and both rural and urban communities with underserved populations" Sheine said. "A robust ecosystem could create jobs in harvesting, manufacturing and construction, and produce desperately needed affordable housing."
A Strong Foundation for Relationships
The engine grant is complementary to the work the TDI researchers are doing as part of the Oregon Mass Timber Coalition's grant from the Build Back Better Regional Challenge, sponsored by the U.S. Department of Commerce's Economic Development Administration. Those funds, which were announced in September 2022, are directed at UO's new Oregon Acoustic Research Laboratory, a fire testing chamber at OSU, affordable housing prototyping and testing for factory production, and a "Smart Forestry" research program that addresses environmental stewardship, supply chain mapping and workforce development.
Through a combination of university collaboration, community involvement in planning, and private investment, the mass timber regional innovation engine stands to not only reenergize the timber economy of the Pacific Northwest region, but also facilitate rural renewal and sustainable urban growth as well.
— By Kelley Christensen, Office of the Vice President for Research and Innovation
*With apologies to poet Douglas Malloch.