November 7, 2023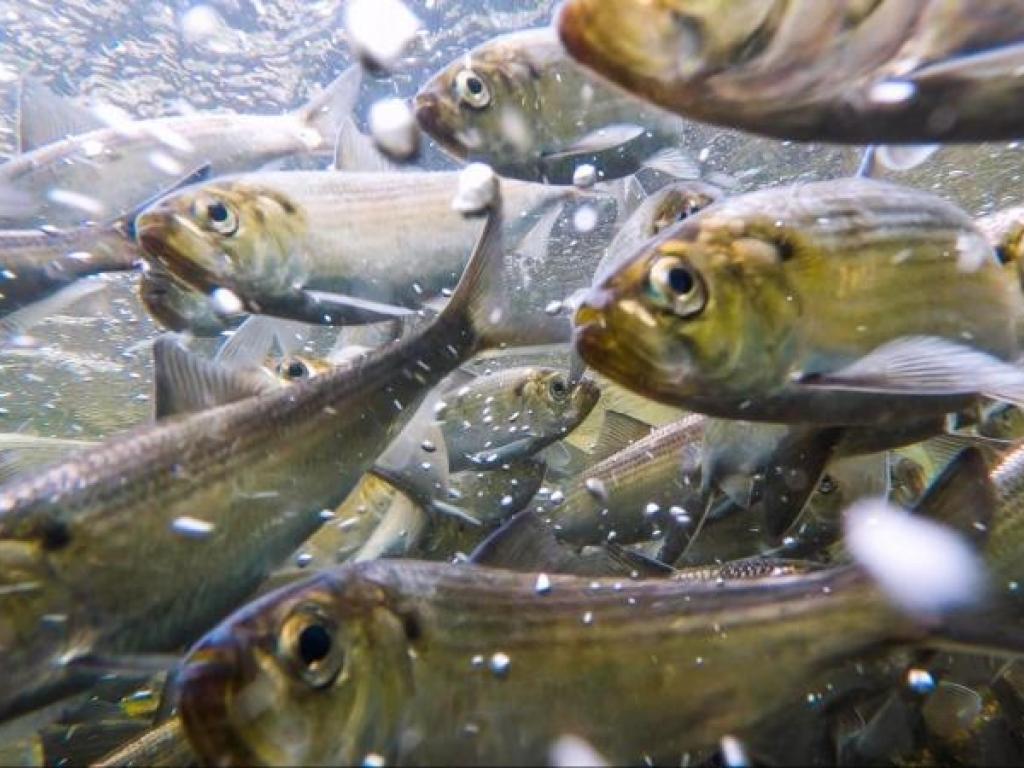 Once used to process COVID-19 samples, powerful genomic sequencing tools in the Genomics and Cell Characterization Core Facility (GC3F) at the University of Oregon are being turned to a new purpose: Aiding in wildlife conservation.
GC3F's suite of equipment and staff expertise were built to help researchers puzzle through enormous, population-scale data sets. Its high output DNA sequencers and advanced robotic sample preparation instruments make it the logical choice for scientists dealing in thousands of genetic samples.
In this case, the population is question is that of the once numerous but now struggling alewife, a species of river herring found in the mid-Atlantic region of the US.
"River herring numbers are at a fraction of what they once were on the East Coast," said Ann Petersen, a fish biologist with the National Oceanic and Atmospheric Administration (NOAA). "This extremely important species is a forage fish for larger fish, adds nutrients to the ecosystem, and historically was a major food source for Native Americans. Despite dam removal and the renewed ability to return to their native spawning grounds, stocks remain depleted."
Alewife populations have quickly rebounded when habitat access was restored through dam removal or improved fish passage. However, for other Northeast populations from New Hampshire south to Virginia, more information is needed to understand the roles of contaminants, rising water temperatures, water quality, or habitat degradation. NOAA's Habitat Ecology Branch needs to evaluate what's happening to the alewife at the genomic level to better understand what's causing the population to stagnate. Maine populations provide a good base to understand the interplay between access and these other factors.
Turning DNA into Data
However, taking thousands of samples in rivers up and down the eastern seaboard is just one step in the process. First, the scientists need to build a transcriptome for the alewife to measure whole-body gene expression in populations between Maine and Virginia.  
A transcriptome is the full range of messenger RNA, or mRNA, in an organism—the protein-coding part of creature's genome. Proteins orchestrate the functions of cells. The alewife transcriptome will be a powerful tool in the genomic "toolkit" to help NOAA scientists pinpoint which factor among many could be responsible for the inconsistent returning alewife numbers.
But building a transcriptome from a species whose genome has never been mapped requires novel tools and computing power. GC3F's team has processed several alewife samples for long-read DNA sequencing, but the next step is parsing the resulting data into something biologists can work with. For that part of the process, Petersen worked with Floragenex Inc., a genomic services company that spun out of the UO in 2006.
Originally founded to provide genomic services to plant breeders at the inception of next-generation sequencing technologies, the company has since sequenced more than 350 unique species from across the tree of life.
Megan Criss '21, who recently completed the Knight Campus Graduate Internship Program in Bioinformatics at the UO, is now a bioinformatician with Floragenex. She is using open-source bioinformatics pipelines and Amazon web-services cloud infrastructure to analyze the data that was generated by GC3F.
Few are more familiar with the GC3F sequencing process than Criss, who interned in the genomics core facility during the height of the pandemic. Along with then-fellow student Demi Glidden, Criss created custom computer programs for the COVID-19 sequencing pipeline, debugged issues, and developed a consistent workflow that is still used today. All told, GC3F processed hundreds of thousands of COVID-19 tests from across central and southern Oregon between 2020 to 2023. Viral genomes were sequenced from the samples that tested positive, and that sequence data was analyzed using Criss and Glidden's custom software. That unique experience and understanding has helped Criss hit the ground running in her position at Floragenex.
"I didn't know how to code when I started my master's program. I didn't know much about bioinformatics," Criss said. "They teach you every necessary skill you need. Not just coding and processing genetic data, but how to be resourceful, ask questions, and reach out for help."
Turning Data into Action
Whether for novel viral variant identification or measuring differences in gene expression in fish, both deal in massive population-level data sets.
"The collaboration between the UO and Floragenex is exactly what we needed," Petersen said. "NOAA itself doesn't have large-scale sequencing technologies and analysis platforms. We needed partners that could deliver on our needs and do so within the governmental procurement system. Floragenex in partnership with GC3F met all our required needs in this respect."
The project is doing more than helping a fish flourish; the transcriptome will be made publicly available, aiding scientists, conservationists, and commercial fisheries alike.
"We are really excited about the next phase of our relationship with UO and GC3F after over a decade of work together," said Jason Boone, president of Floragenex. "Technologies like long-read transcriptomes and RNA-Seq are helping our customers answer questions like how global climate change affects wild populations, how ocean warming and increased acidification affect marine species, and how are contaminants in our environment change gene expression in wildlife leading to population-level success or failure."
"The transcriptome will be an important tool for understanding overall fish condition and reproductive health in the river herring, which can be applied in analysis of population resiliency and stock assessments. The availability of the transcriptome could help with recovery of these iconic fish," Petersen said. "It's also important for managing food sources, for commerce, and for monitoring endangered species. Having the transcriptome publicly available enables us and our partners to look at different alewife populations to compare to gene expression data across different locations. It helps up build hypotheses about why fish health may differ in different rivers."
This isn't the UO's first foray into converting equipment purchased with crisis-related funding to new uses. For decades, the primary tools in UO's manufacturing facility—Technical Sciences Administration—were World War II surplus.
"We built a very large lab when the clear need was to provide access to COVID-19 testing to lots of people. Now the lab isn't needed anymore for that purpose, so we are exploring how we can productively utilize these tools," said Doug Turnbull, GC3F's director. "With our tools for processing large numbers of samples and our vetted, efficient sample prep process for thousands of samples at a time, we look forward to doing even larger-scale experiments in the future."
— By Kelley Christensen, Office of the Vice President for Research and Innovation
Editor's Note: Featuring NOAA projects and personnel does not constitute an endorsement of this vendor by NOAA or Dept. of Commerce.