September 11, 2023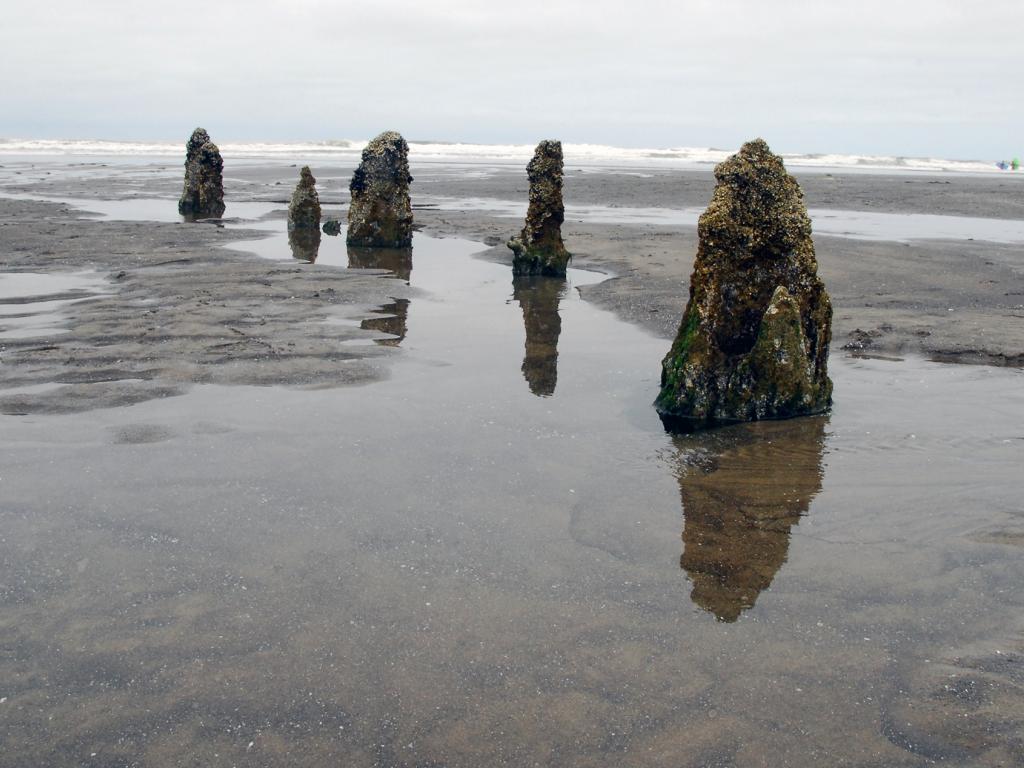 The first National Science Foundation-funded subduction zone earthquake science center is a large-scale collaborative effort led by the University of Oregon.
The Cascadia Region Earthquake Science Center (CRESCENT) will conduct shoreline-crossing earthquake hazards research focused on the Cascadia Subduction Zone (CSZ), diversify the geoscience workforce, provide skills training, and improve connections across the subduction zone geohazards community of practice.
In addition to scientists from the UO, other participating institutions include Central Washington University, Oregon State University, University of Washington, Cal Poly Humboldt, Cedar Lake Research Group, Portland State University, Purdue University, Smith College, Stanford University, UC San Diego, Earthscope Consortium, University of North Carolina-Wilmington, U.S. Geological Survey, Virginia Tech, Washington State University, and Western Washington University.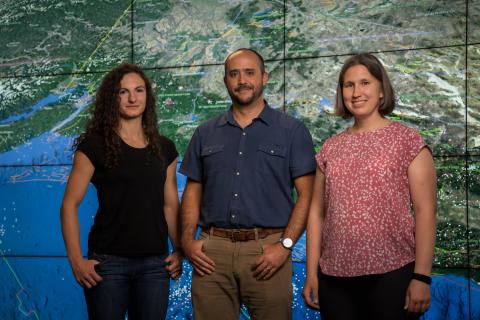 "The main goal of center is to bring together the large group of seismologists working in Cascadia to march together to the beat of a singular drum," said Diego Melgar, Ann and Lew Williams Chair and associate professor of earth sciences at the University of Oregon. "The center organizes us, focuses collaboration, and identifies key priorities rather than these institutions competing."
Melgar, along with Valerie Sahakian, earth sciences associate professor, and Amanda Thomas, earth sciences associate professor, is the lead on the CRESCENT project.
"We are elated to see the nation's first subduction zone earthquake hazards center become a reality, and we applaud the leadership of the interdisciplinary UO team who worked so hard to make it happen," said Chris Poulsen, Tykeson Dean of the College of Arts and Sciences at the UO. "The assembly of this diverse community of researchers and stakeholders to establish a collaborative earth science research team focused on the Cascadia region is impressive, important, and overdue. We are also proud that this award will help build a diverse future geoscience workforce."
Creating an "Earthquake Culture"
The Cascadia Subduction Zone has the most comprehensive geologic record of large earthquakes globally, and yet the communities along the U.S. West Coast are ill-prepared should "The Big One" strike the region. There is a large risk that buildings and bridges may collapse, power and gas lines may be disrupted, and water supplies may become inaccessible. In the face of what could be a catastrophic event that would set back the region by decades and likely cause mass out-migration, CRESCENT members aim to mitigate that damage through high performance computing and artificial intelligence-assisted modeling and research aimed at informing better policy practices to fortify the region against earthquakes and related disasters that can occur in tandem: tsunamis, landslides, aftershocks, liquefaction, and fires.
"CRESCENT will conduct research that is directly relevant to earthquake and tsunami hazards but too ambitious for any one scientist to take on individually," said Amanda Thomas, the Chief Technical Officer for CRESCENT. "Our goal is to create community-endorsed research products that are immediately relevant for science and hazard estimates." 
The research involves analysis of large datasets using machine learning, earthquake and tsunami simulations using high-performance computing, and bringing a community of experts together to achieve common goals. CRESCENT will facilitate these efforts using cloud-based cyberinfrastructure and access to a team of developers that support center activities.
In the short-term, the center's goals are to increase understanding of the hazards in the subduction zone and disseminate new knowledge to communities by engaging stakeholders in education. The center seeks to enhance cyberinfrastructure capacity and training and broaden participation of minoritized groups in the geosciences. CRESCENT will establish public-private relationships to build trust and regional resiliency.
"Moving here from southern California, I saw that Cascadia is comparatively less advanced in understanding regional questions about earthquakes in part because we didn't understand the subduction zone could produce great earthquakes until a few decades ago," Sahakian said. "Modeling the shaking from California to Canada is a huge endeavor. The center enables us to make bigger strides in models, products, and lines of research to work with engineers and emergency planners to create better building codes and actionable societal outcomes. The whole is greater than the sum of its parts."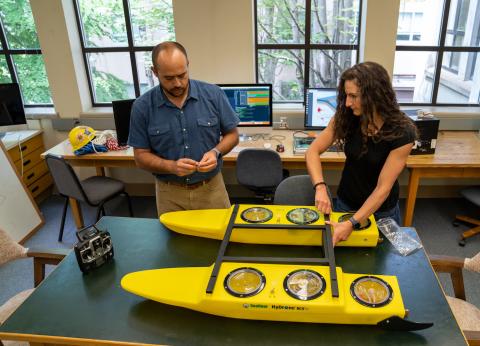 Long term, CRESCENT seeks to modernize earth sciences research training and create a diverse workforce while establishing an "earthquake culture" across the region through transformative discoveries in the dynamics and modeling of earthquakes and related hazards that will lead to policy changes and community engagement.
"Good science makes good policy — and jobs. CRESCENT will expand our knowledge of earthquake science and seismic risk in the Pacific Northwest," said Jonna Papaefthimiou, Oregon state resilience officer in the office of Gov. Tina Kotek. "It will engage communities to connect research and local knowledge and create effective resilience strategies. And it will create career pathways for diverse communities to serve Oregon as scientists and leaders — a triple win for Oregon."
Seismic Changes for Seismology Itself
A key component of the center is addressing a core issue in geosciences: the lack of diversity. Varied experiences lead to diverse approaches to problem-solving; the field should reflect the backgrounds of the communities it serves.
"I am Latino – one of a few minority geosciences faculty in the U.S.," Melgar said. "Proportionally, 12% of faculty ranks should be Black and 20% should be Latino. Part of our mandate is to bridge that gap for these and all minoritized communities."
To do that, the center will engage with minority-serving schools to raise interest in geoscience careers, provide fieldwork stipends and year-round paid research assistantships built on partnerships between universities to support graduate students, and train students in data science and computing.
"There is widespread and growing recognition of the persistently low level of diversity in the geosciences," says Anne Egger, executive director of the National Association of Geoscience Teachers. "Increasing diversity in the geoscience workforce requires focused, directed efforts at all levels of academia and employers. As a large research center working across multiple states, educational levels, and communities, CRESCENT has a great opportunity to make an impact. I'm excited to see this large, collaborative, societally relevant research center come to the Pacific Northwest."
Building resiliency in the region to face The Big One is a much greater task than any one institution or research discipline can undertake on its own. Through the collaboration, community engagement, and the data science and machine learning CRESCENT enables, the Cascadia region's shaky foundations are strengthened.
"The University of Oregon is a leader in earth sciences and in helping communities understand how the processes that have shaped our earth over the course of billions of years have deep impact on us today," said Anshuman "AR" Razdan, vice president for research and innovation at the UO. "The UO serving as the lead institution for CRESCENT is a testament to the innovative research occurring at the university. This center represents more than just good science; CRESCENT represents research for societal good."
— By Kelley Christensen, Office of the Vice President for Research and Innovation
What they're saying about the center
US Sen. Jeff Merkley (D-OR)
US Rep. Earl Blumenauer (D-OR), representing Oregon's 3rd Congressional District
US Rep. Suzanne Bonamici, (D-OR), representing Oregon's 1st Congressional District
US Rep. Lori Chavez-DeRemer (R-OR), representing Oregon's 5th Congressional District
US Rep. Andrea Salinas (D-OR), representing Oregon's 6th Congressional District
US Rep. Val Hoyle (D-OR), representing Oregon's 4th Congressional District
Oregon Gov. Tina Kotek (D)