December 8, 2022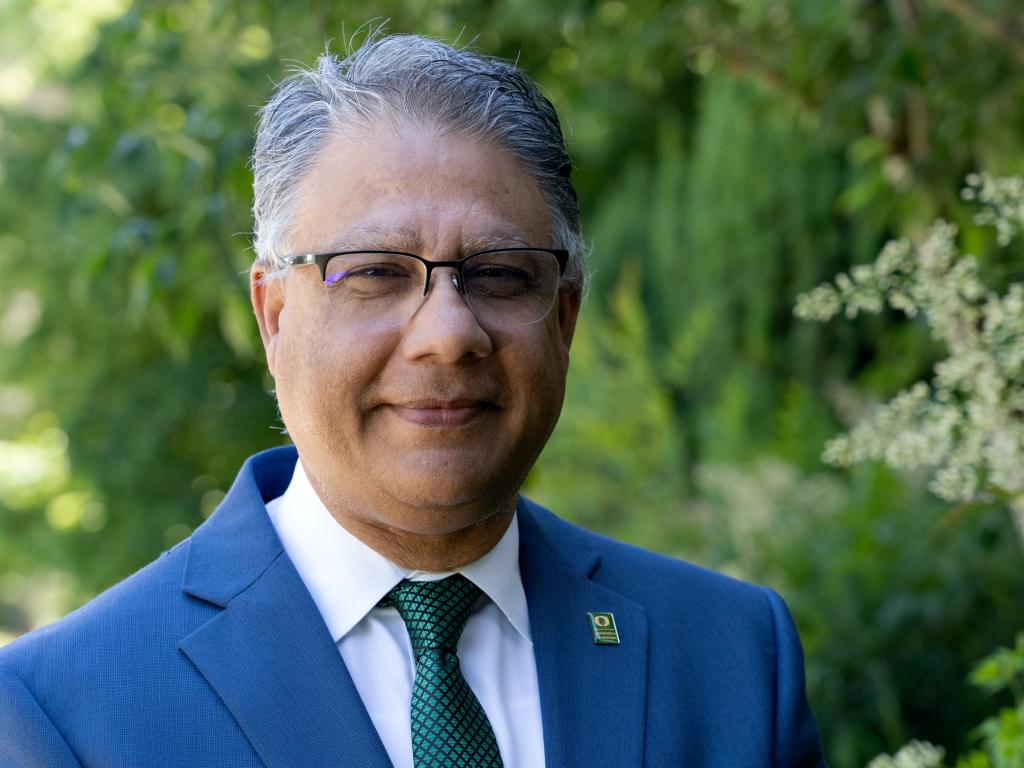 Anshuman "AR" Razdan, vice president for research and innovation and professor of computer science at the University of Oregon, has been elected to the 2022 class of fellows of the National Academy of Inventors. The honor recognizes his contributions to the field of computer science.
"I am immensely honored to be recognized for my contributions to the field," Razdan said.
Razdan joined the UO in 2022 after serving as the associate vice president of research development at the University of Delaware (UD), where he established three research core facilities, the UD Data Science Institute, and helped secure millions of dollars in research funding across the board.
He holds four patents including on 3D face authentication and document exploitation, as well as image processing. Following the terrorist attacks on September 11, 2001, Razdan's work in facial recognition work and handwriting analysis contributed to U.S. national security interests. He and several collaborators worked with the aerial imagery company AerialSphere to add accurate projection and precise location data to 360-degree photography, which is used by the commercial real estate sector.
"I have always tried to focus my research as translational and applied; each of my patents and much of my research grant funding was focused on real-life problems, such as addressing the need for facial recognition after 9/11 and enabling handwriting recognition and language independent triage for documents," Razdan said.
He joins a class of 164 academy fellows, who represent 116 research universities and governmental and nonprofit research institutes worldwide. They collectively hold more than 5,000 U.S. patents.
At the UO, other faculty members elected to the academy in the past several years include Susan Sokolowski, UO professor and director of the Sports Product Design Program, as well as the first Oregon woman to be named a fellow of the academy; Robert Guldberg, vice president and Robert and Leona DeArmond Executive Director of the Phil and Penny Knight Campus for Accelerating Scientific Impact as a fellow; Shawn Lockery, a professor of biology; and Keat Ghee Ong, a professor of biochemistry at the Knight Campus as senior members of the academy.
The National Academy of Inventors was founded in 2010 to recognize and encourage inventors with U.S. patents, enhance the visibility of academic technology and innovation, encourage the disclosure of intellectual property, educate and mentor innovative students, and translate the inventions of its members to benefit society.
"AR's 54 peer-reviewed publications and four patents have made significant contributions to several areas of computer science, namely computer vision, pattern recognition, visualization and informatics, and computer-aided design," said Reza Rejaie, professor and head of the Department of Computer Science at the UO.
The induction ceremony is June 27, 2023.
— By Kelley Christensen, Office of the Vice President for Research and Innovation