February 13, 2023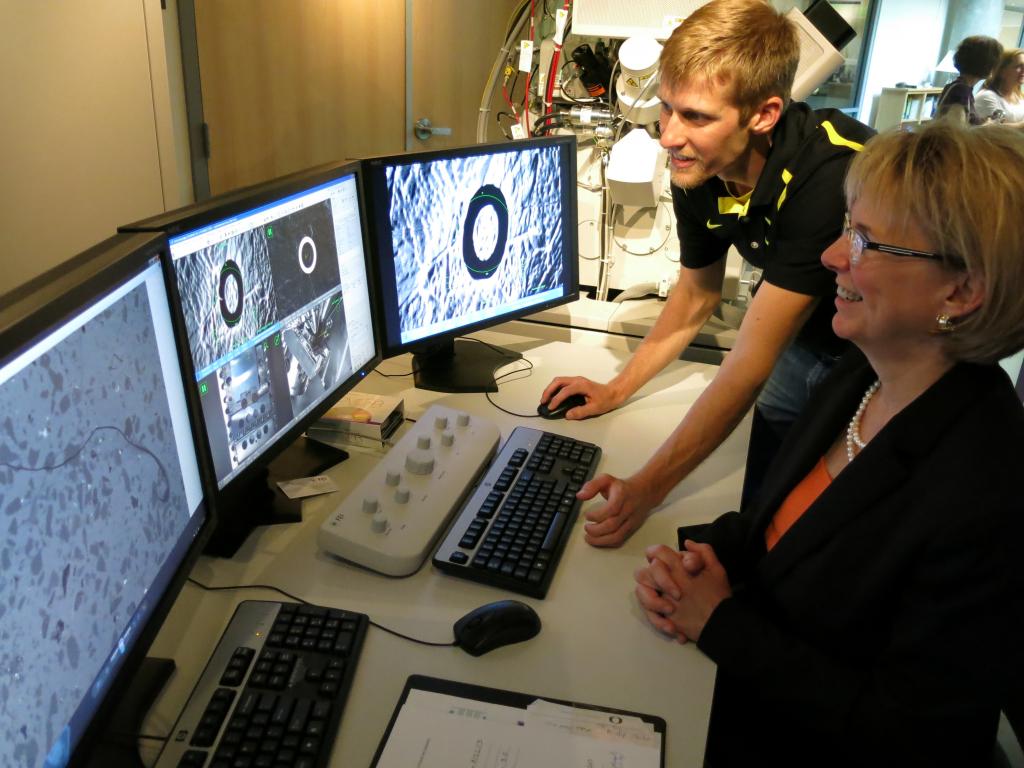 Faculty members looking to launch multidisciplinary research projects have until March 27 to submit letters of intent for the 2023 Incubating Interdisciplinary Initiatives (I3) award program.
The I3 program empowers interdisciplinary teams and helps them navigate challenges, including leaving their familiar research territory, learning to communicate in new ways with colleagues in other fields, and developing novel approaches. The award has been a catalyst for collaborative efforts tackling new research areas. The program is open to faculty members from all academic disciplines and puts a priority on ideas with high potential to lead to future external funding.
The program is supported by the Office of the Vice President for Research and Innovation and awards up to $50,000 to promising University of Oregon research teams. As part of integration with UO's academic initiatives, funding may be available to support projects via the Environment Initiative and the Sport and Wellness Initiative as a way to increase the number of meritorious proposals funded for this cycle. Projects considered for funding by Initiatives must directly advance key strategic goals of the program.
Past I3 recipients have successfully leveraged their awards to build the foundations for long-term progress and new areas of research. Many were able to attract new scholars to the UO, file intellectual property, and create new curriculum — demonstrating the broad impact of the award. In addition to fostering intra-university collaborations, past research teams developed partnerships with outside institutions, including international nongovernmental organizations and local companies. Previous recipients of I3 awards have been funded by the National Science Foundation, the Gordon and Betty Moore Foundation, the Harry Frank Guggenheim Foundation, and the National Security Agency.
Awards vary widely in their topics and collaborations. Examples from the last two funding cycles include:
Scott Blumenthal (anthropology) and Ilya Bindeman (earth science) teamed up to address the challenge of reconstructing past climate change and understanding how such changes influenced the evolution of landscapes and organisms, particularly early humans in Africa. Their interdisciplinary study will provide pilot data critically needed for the development of proposals to funders that have recently supported major inter-disciplinary research in geochemistry, paleontology, and paleoanthropology.
Gabriela Pérez Báez, Julie Sykes, and Spike Gildea (linguistics) and Ryan Light (sociology) are working with members from the Puyallup Tribal Language Program and a tribal sociologist with a project to help revitalize the Lushootseed language, a Salishan language indigenous to the Puget Sound area. They are collaborating with community revitalizers to apply a social network analysis to the context of the revitalization of the highly endangered language.
Carrie McCurdy (human physiology), Emily Beck (data science), and William Cresko (biology) teamed up to study how maternal diet directly impacts egg quality and maternal mitochondrial inheritance. Because current mammalian models made it difficult to disentangle the influence of early developmental exposures from those of maternal egg contributions, and have insufficient natural genetic diversity to model humans, the group proposed to develop threespine stickleback as a novel evolutionary model of mitochondrial disease, and to perform necessary work on the transgenerational health effects of high fat diet.
The I3 award is administered by Research Development Services, which offers services for faculty members seeking support for research, performance, public service, and scholarly projects.
Notification of awards will take place in early June. A mandatory letter of intent is due March 27. Full applications are due by May 1. For questions, please contact Research Development Services at rds@uoregon.edu.
— Office of the Vice President for Research and Innovation
---
The Office for the Vice President for Research and Innovation provides resources to faculty seeking to nominate themselves or others for honors and for recognizing for those who have already been awarded for their achievements. Visit the OVPRI Honors & Awards page to learn more.