May 25, 2023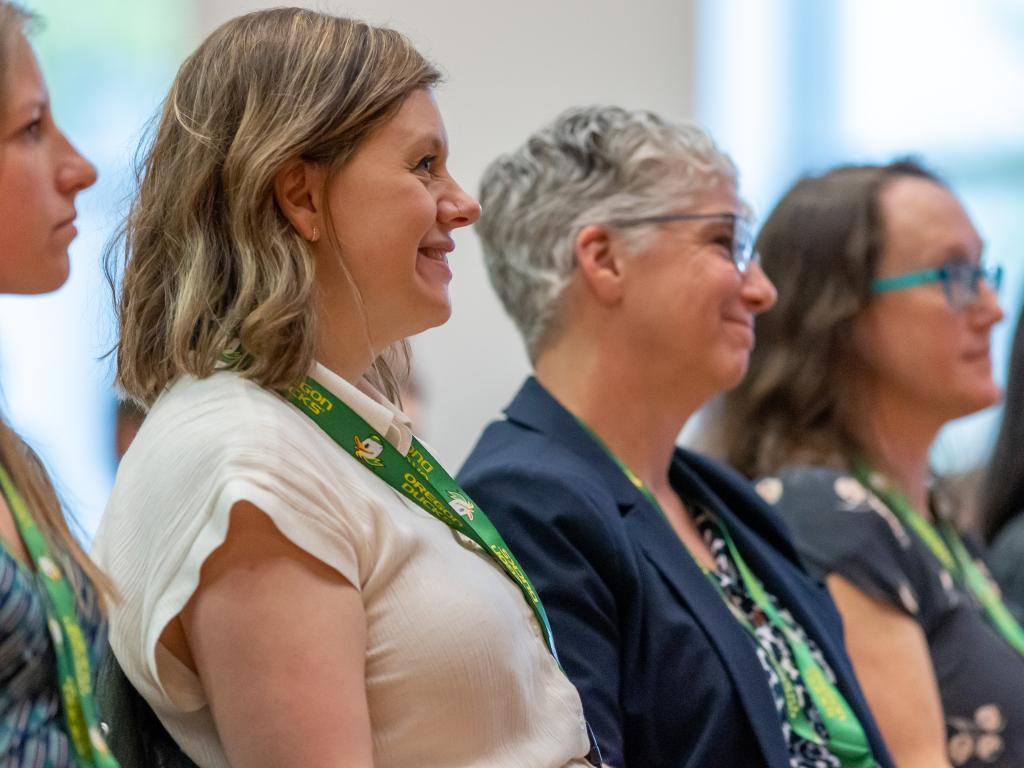 On May 30, 22 women will graduate from the Women's Innovation Network (WIN), which pairs women who have innovative business ideas with savvy mentors. The aim of the network is to narrow the innovation gap — women are far less likely than men to found companies or bring inventions to market, not because of lack of interest or talent, but because of societal barriers.
"It has been an incredible honor to watch these 22 women develop deeper connections to one another and to themselves," said Mandy Gettler, WIN co-lead and senior innovation asset administrator at the UO. "I have confidence that they will continue to find and develop the kinds of connections that offer them the insight and the ability to become part of a social movement dismantling the complex, non-linear problem that is the gender gap in innovation and entrepreneurship."
The reception will be held from 4:30-7:30 p.m. in the Giustina Ballroom at the Ford Alumni Center.
Speakers include Sue Graf, a partner at Klarquist Law Firm, which focuses on patents, litigation, post-grant proceedings, trademarks, and IP counseling; Holly Mar-Conte, a childcare sector strategist representing Onward Eugene; Mandy Gettler, WIN co-lead; and Anshuman "AR" Razdan, vice president for research and innovation.
The event will also feature a fire side chat amongst Caroline Cummings, CEO of RAIN Catalysts; Nancy Pance, co-founder and co-owner of Opportunity Oregon and WIN participant; and Lance Randall, executive director of Black Business Association of Oregon. They will discuss the role mentors play in innovation ecosystems and how nontraditional founders can overcome barriers to entrepreneurship
WIN 2022-2023 Participants
Amy Webster
Anwesha Guha
Cathy Robinson
Elaine deLorimier
Elizabeth Budd
Eva Osirus
Eyerusalem Gebreyesus
Hollie Smith
Hope Healey
Johanna Koons
Karina Peterson
Kaylee Meyers
Kelly O'Neill
Liz Tate
Nancy Pance
Neeka Barooni
Nichole Kelly
Paula Gonzalez
Samantha Kalita
Sophie Navarro Matchett
Valerie Brogden
Vanessa Kempf
WIN 2022-2023 Mentors
Ally Wimberly
Ashley Espinoza
Brie Stoianoff
Chakris Kussalanant
Janis Weeks
Janne Underriner
Jenn Amador
Justin Freeman
Kat McCormick
Kathryn Carpenter
Katie Brown
Linda Hansen
Melissa Prestinario
Nicole Desch
Sandy Shotwell
Shula Jaron
Stacy Kraker
Tallmadge Doyle
Tamar Antin
Tina Guldberg
Wendy Morgan
During WIN's inaugural cohort, thirty-seven women participated in the program.
— By Kelley Christensen, Office of the Vice President for Research and Innovation