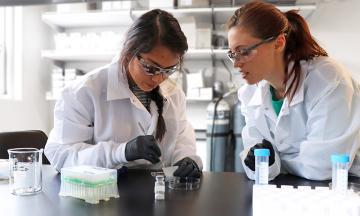 The Knight Campus Undergraduate Scholars program is a comprehensive research experience designed to develop the next generation of leading researchers. The program immerses a cohort of students in a full year of research in a Knight Campus affiliated lab from January to December each year.
Support of the Knight Campus Undergraduate Scholars program comes from the Clark Honors College, Thermo Fisher Scientific Corporation, and generous donors. 
Learn more about the Phil and Penny Knight Campus for Accelerating Scientific Impact.
Announcements
Program Timeline - 2023 Program Year
activity
date
Application Available
September 27
Application Deadline

Students: November 27 at 11:59 pm

Mentors: December 2 at 12:00 pm

Fellows Selected
Mid-December
Mentors Selected
Late-December
Program Start Date
Beginning of Winter '23 Term
Program End Date
End of Fall '23Term
---
Program Details and Benefits
How it works
Undergraduate students apply to the program, describing their background and research interests. Prospective mentors submit project proposals that outline an independent student research project. After student scholars are selected, the scholars and mentors go through a matching process.
Undergraduate Student Benefits
The program provides a $8,000 stipend that will be paid out over the course of the calendar year.
Participation in professional development and learning activities as part of a cohort of top students.
IMPORTANT: If you are receiving federal financial aid, this award may affect your financial aid eligibility. Students who receive federal aid have a responsibility to report all awards earned to the UO Office of Financial Aid and Scholarships. Contact the Office of Financial Aid & Scholarships for more information.
Mentor Benefits
$1,500 in research support (e.g. travel, conference fees, and supplies).
Supervisory and leadership experience.
---
Eligibility Criteria
Undergraduate Students
Sophomore or Juniors enrolled at the University of Oregon
Minimum 3.3 GPA
Major in the natural sciences
Commitment to program including full time availability for at least 10 weeks in the summer
Mentors
Graduate student, postdoctoral fellow/scholar, NTTF, or TTF (Assistant Professor Rank only) in a Knight Campus faculty lab.
Graduate student, postdoctoral fellow/scholar, NTTF, or TTF in a research group that has received Knight Campus Associate status.
Mentor must be approved by lab PI to submit a proposal
Committed to supervising the undergraduate scholar for the full year
Have a project that allows undergraduates to work independently under your supervision
---
Program Expectations
Undergraduate Students
Commit regular effort to conducting research:

Winter term: 10+ lab hours per week
Spring term: 10+ lab hours per week
Summer: full time in the lab for a minimum of 10 weeks
Fall term: 10+ lab hours per week

Participate in cohort activities (professional development and social).
Share the results of your research at the UO Undergraduate Symposium.
Acknowledge the Knight Campus Undergraduate Scholars program in all work resulting from research during the program.
Notify the program administrator immediately of other support or of any conflicts with the eligibility and/or restrictions of this fellowship.
Notify the program administrator of any publications or conference presentations that are associated with your research project.
Mentors
Participate in orientation, training, and semi-regular meetings related to the program
Provide progress reports and evaluations as requested by the program
---
How to Apply
Make sure that you meet all of the eligibility criteria outlined above before proceeding.
Step 1
Undergraduate Students
Mentors
Only projects which allow undergraduates to work independently will receive consideration, so please ensure that your project description details the undergraduate's independent research in relation to your own current research.
If you are already mentoring an undergraduate student who is planning to submit an application to the program please indicate so in the appropriate section in the application.

You will also be asked to indicate whether or not you wish for your project to be considered for other scholars if your undergraduate is not selected.

Preview a PDF version of the application.
Complete the online application. 
Step 2
Undergraduate Students
Applicants are required to have one letter of recommendation from a faculty member that is familiar with your academic background and/or research experience. Request that your letter writer complete the letter of recommendation worksheet submit the completed worksheet to urop@uoregon.edu
Letters of recommendation are due at the same time as the other undergraduate application components. 
Under the federal law titled the Family Educational Rights and Privacy Act of 1974 and according to the University of Oregon Student Record Policy, registered students are given the right to inspect their records, including letters of recommendation and teacher recommendations. If the student wants to waive their right of access to this recommendation, they may do so by completing a waiver form.
Mentors
Ask your PI to send an email to urop@uoregon.edu giving their approval for you to submit a project for consideration and confirming your full year of availability to mentor an undergraduate student.
Step 3
Undergraduate Students
Mentors
No further action needed.
---
Corporate & Individual Donors
Thermo Fisher Scientific
Dave and Nancy Petrone
Robert and Tina Guldberg
Wu Tsai Human Performance Alliance
Ken and Kenda Singer
Bryan and Maureen Wolf
William Fairey
Megan A and Thomas K Wuest
Richardson Family
W. Chris Babcock
Hulsey Family
---
Questions?
Contact Karl Reasoner at urop@uoregon.edu