To determine allowable project costs, many sources need to be reviewed.  With the number of applicable rules and regulations, it is also helpful to identify how these different sources work together.  Typically, costing determinations can be made by reviewing the following sources and consulting with your Post Award Team.  The reference section below provides information and links to some of these sources.
funding announcement and proposal documents
award documents, including guidance referenced in the award document
University of Oregon policies and procedures (UO Institutional Information)
cost accounting standards
State of Oregon law and policies
sponsor requirements and regulations
federal regulations as applicable (i.e., Uniform Guidance, Federal Acquisition Regulations)
The standard order of precedence chart below provides a visual representation of how these rules and requirements work together.  Please contact your Post Award Team for information regarding these sources, costing determinations, and guidance.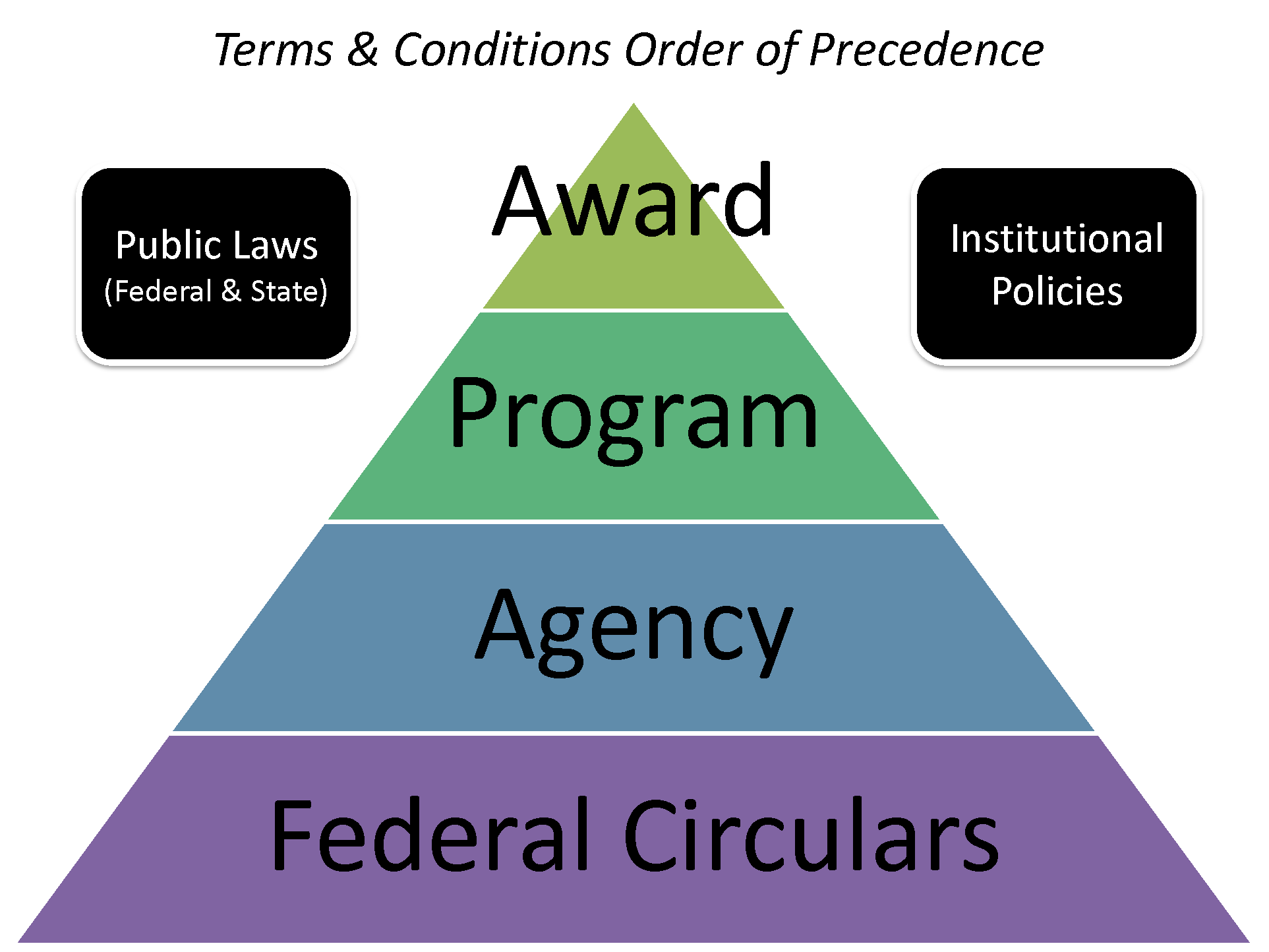 References
Oregon Revised Statutes and Oregon Administrative Rules.

As a public, non-profit institution and State of Oregon agency, the UO cannot use State instructional funds for other purposes.

The Oregon State Board of Higher Education Policies and Administrative Rules.

Policy 6.100 requires that institutions seek reimbursement for all direct and full facilities and administrative or F&A costs (formerly called indirect costs) associated with every grant and contract and that budgets include all recoverable direct costs and F&A costs at the full rate allowed.

Uniform Guidance, OMB 2 CFR Part 200. 

The UO is subject to the cost principles and methods under OMB 2 CFR Part 200, which requires that costs must be allocable to a sponsored agreement. A cost is allocable to a particular sponsored project if the goods or services involved are chargeable or assignable to the project in accordance with the relative benefits received.
As a recipient of federal funds, the UO must follow policies and regulations that govern compensation for employees, including additional compensation for outside consulting.

Cost Accounting Standards (CAS)

The UO is subject to CAS, which emphasize the importance of consistent application of cost accounting principles. The CAS are also incorporated in Uniform Guidance. 
Costs incurred for the same purpose in like circumstances must be treated consistently as either direct or indirect costs. Where the UO treats a particular type of cost as a direct cost on sponsored agreements, all costs incurred for the same purpose in like circumstances must be treated as direct costs for all activities of the institution.

Audits

Uniform Guidance requires an annual external audit for UO to ensure that the institution maintains internal controls over grant and contract funds and is in compliance with applicable federal, state, institution and award regulations.
Audits or reviews are also conducted periodically by sponsors and our internal audit office.